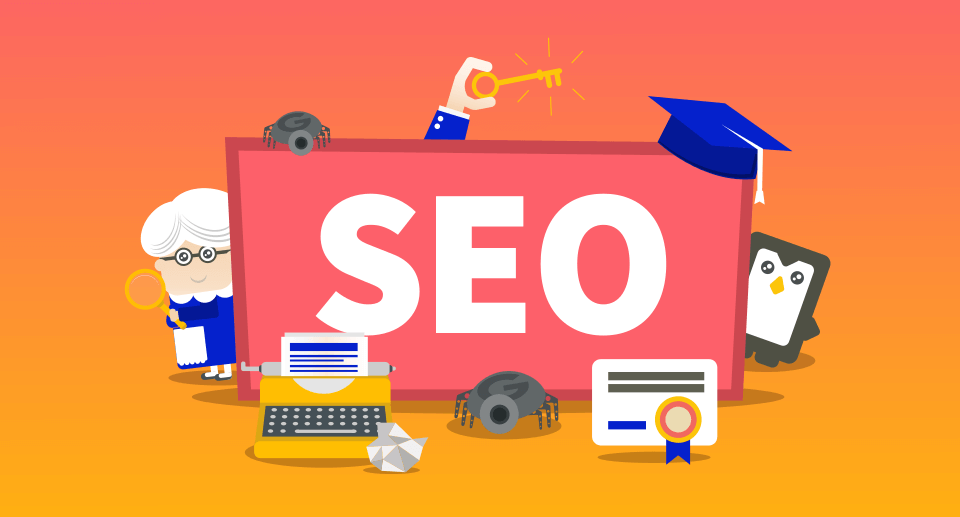 Search engine algorithms have come a long way and become more sophisticated from the times when content, titles and descriptions stuffed with keywords were enough to achieve high rankings in search results.
If you want to learn SEO, you can't get stuck in the past. One of the biggest improvements of search engines is that they consider the human factor, in other words, the user engagement.
Don't forget that SEO is about targeting real people, not only search engines.

Tweet this
Meta tags
Meta tags are a part of the HTML code. They describe website's content. The most important are meta titles and meta descriptions.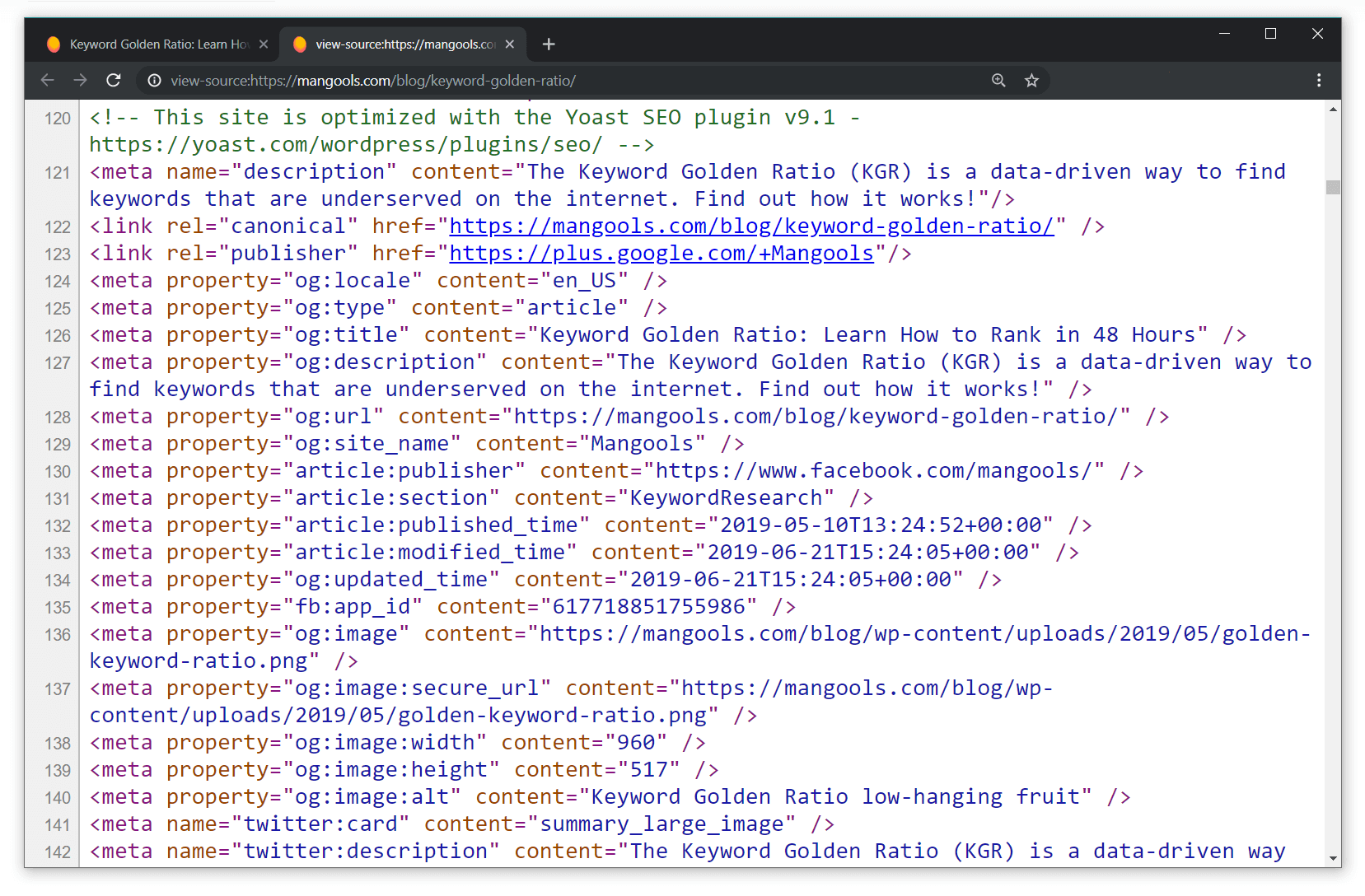 For detailed information, make sure to read the definitions and advanced optimization tips in our SEOpedia both for title tags and meta descriptions.
They aren't as important as they used to be from the technical point of view.
Meta titles and descriptions packed with keywords don't directly influence your rankings BUT they remain a strong psychological factor affecting the CTR and overall user engagement. Therefore, they are still very important for SEO.
Don't get confused by bloggers saying that title tags and meta descriptions aren't important at all. On the other hand, keep in mind that Google algorithm changes titles and descriptions to better indicate their relevance to the search query in case your copy doesn't match enough.
There are many tools and plugins (e.g. Yoast for WordPress) analyzing your content in terms of focus keyword usage in meta title, meta description, headings, overall keyword density, alt image attributes and others.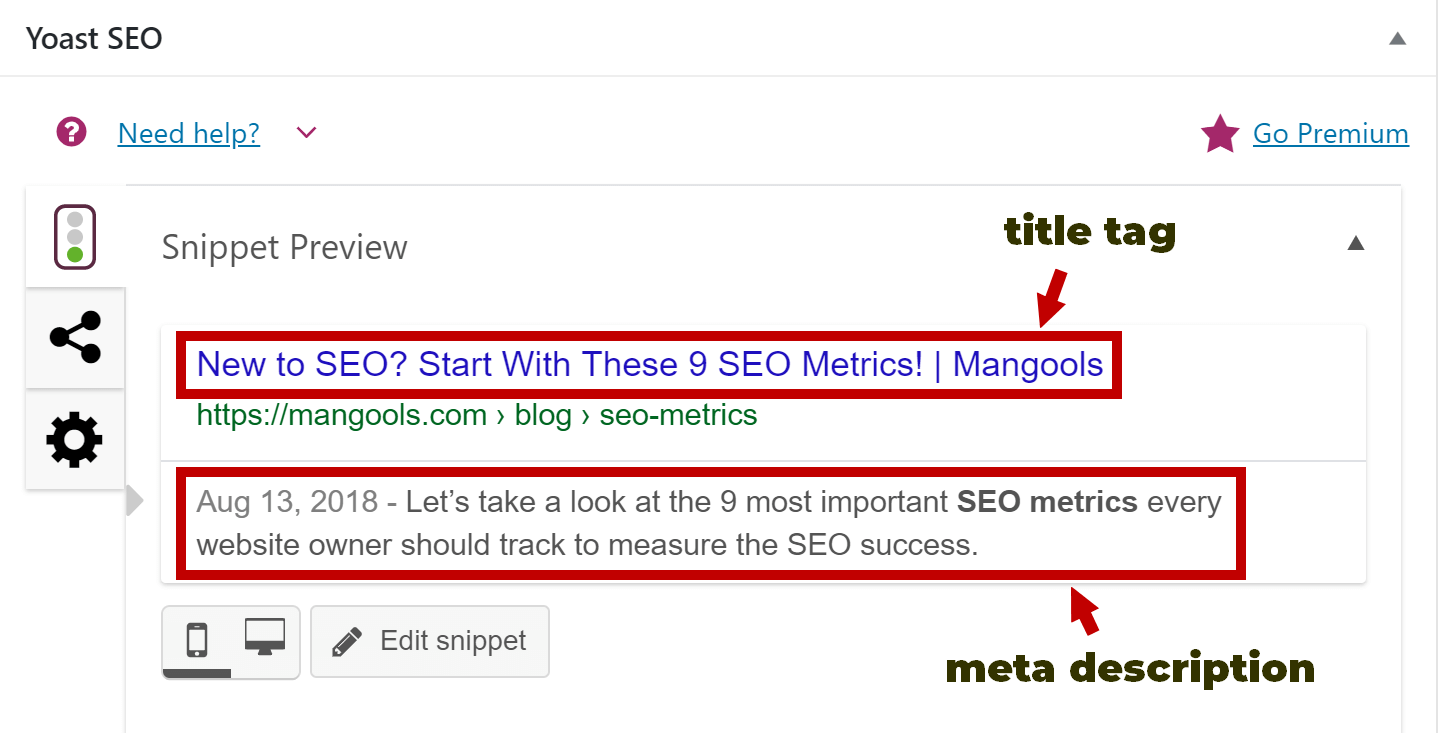 They offer a lot of hints, yet can hardly follow Google's algorithm focusing when it comes to human factor. Make sure that you consider both technical points of view and user experience when creating meta tags.
On-page SEO checklist
Let's start with the things you can do in WordPress or any other content management system.
1. Find out what people are searching before you start writing

Do you plan to write about a topic that people search for? Are you sure your point of view is different, unique? Can you offer a new added value to the topic? Is your timing right?
These are the major questions before you start writing and it doesn't matter whether it's a blog or a product landing page. There are many ways how to find out. Keyword research is an inevitable part of it. We talk about how to do keyword research in the 5th chapter.
2. Title tags and headlines
Create an appealing title tag, meta description and headlines. Keep in mind what we mentioned earlier. Your main focus keyword should still be there, so users know what is your website about. Use the meta description as a great opportunity for the call-to-action (CTA) emphasis.
Persuade both users and search engines that your website is the one to be clicked on.
Once again, think of the user engagement, so don't overact by using cheap or too cheesy words. Look at your competitors, analyze what works for them and build your own strategy.
Quick tips for title tags and headlines:
Google will show the titles if they're up to 70 characters and meta descriptions up to 155 characters (updated on May 2019).
Make sure to use correct


, , , … structure for good readability and structure.

Check the search results preview in tools such as our SERP simulator (screenshot below), SEOSiteCheckup, or WordPress plugins.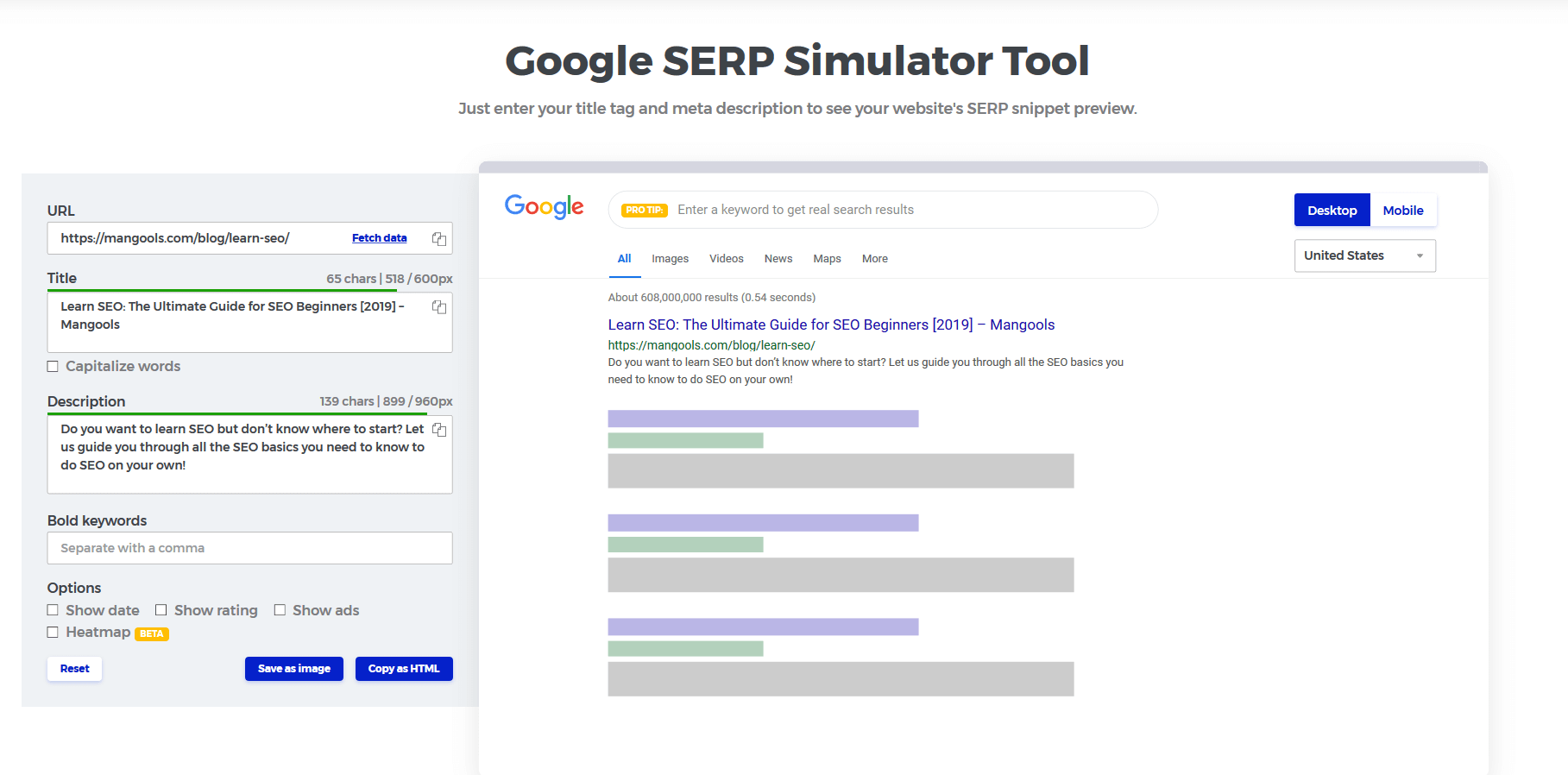 3. Use SEO-friendly URLs
Avoid using auto-generated URLs with figures and characters:
www.example.com/2017/post318e7a349f6
Use URLs corresponding to your content and its title:
www.example.com/how-to-bake-pizza
If you use WordPress, you can set permalinks in the common settings.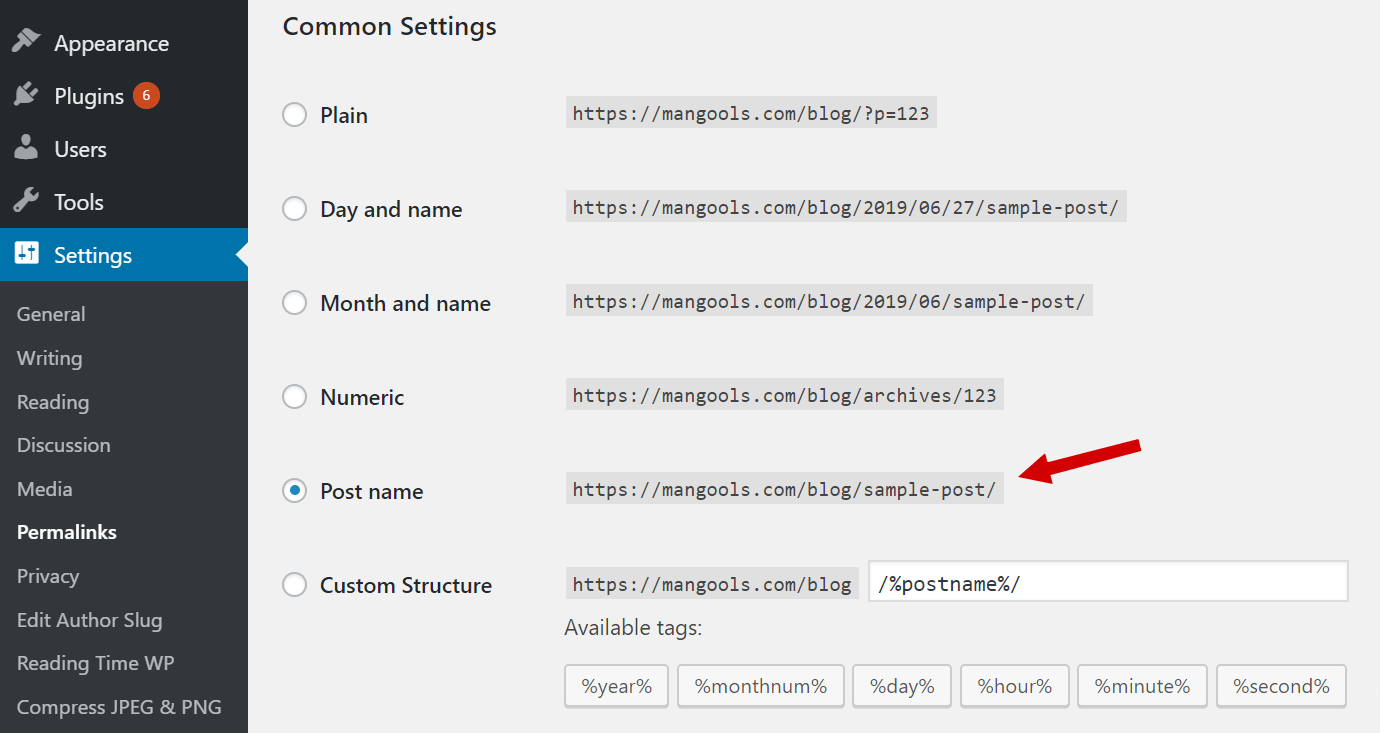 SEO specialists and bloggers say that short URLs ranks better in Google. We think it's a matter of the user experience. Of course, this doesn't mean a 20-word URL is alright.
4. Multimedia
Do you want to engage your visitors? Use images, infographics, charts and videos. They lead to lower bounce rates and higher engagement. Some things have to be written in the good old-fashioned way but multimedia are a must.
Video streaming has been one of the hottest marketing trends over the last couple of years. Furthermore, they motivate people to like, share or comment your content.
Quick tips for multimedia:
Optimize images by using relevant file names (how-to-bake-pizza.jpg), alt image attributes and file size.
Embed interactive multimedia such as videos or charts.
Don't forget to include transcripts so you don't lose important keywords (search engine crawlers can't "read" the video).
5. Outbound and internal links
Using outbound links gives a relevancy signal of your topic to Google. Make sure to link to relevant and authoritative sources.
Internal links are a perfect way to promote your other articles or website sections. It makes easier to visit them and leads to higher engagement. Internal linking also helps Google bots to understand the website structure.
Quick tips for outbound and internal links:
Outbound links may not directly improve your rankings, yet it is highly advisable to use them.
Use up to 2-3 internal links, depending on the content length.
Search engine crawlers scan these links, so don't try to cheat and watch out for broken links.
Follow the content hub model for internal linking.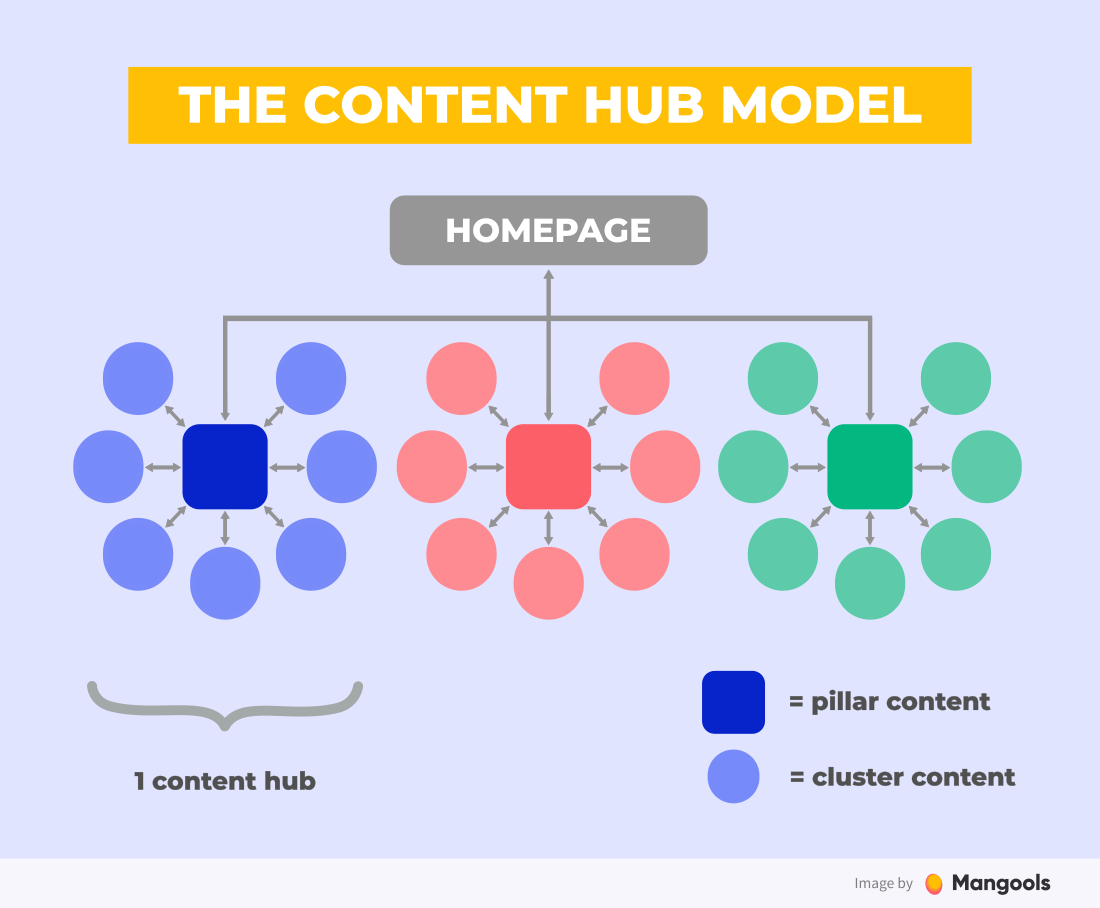 One of the great ways to interlink your content is to follow the content hub model
6. Let people engage
Great content shares itself. Yes, maybe in the past. People are lazy these days so the share buttons should always be on your website. According to BuzzSumo, social sharing dropped by half since 2015.
Besides Facebook, Twitter or LinkedIn, consider adding specific and topic-related social networks, such as Reddit, Pinterest and many others.
Technical on-page SEO checklist
We can classify technical SEO as a part of the on-page SEO that deals with more technical stuff. It usually requires at least some development skills or a web developer. But don't get scared too much, there are many things you can do easily in WordPress .
These are the most important technical SEO factors you should focus on:
1. Search Console
Connecting your site to the Google Search Console (former Webmaster tools) is one of the SEO basics. It helps you to monitor and maintain your site's presence and performance in Google Search.
The Search Console helps you analyze your keyword rankings, CTRs, possible Google penalties and many other useful data for technical SEO.

Other features include content mobile usability, choosing what you want to be indexed and what not, site errors, structured data errors and links.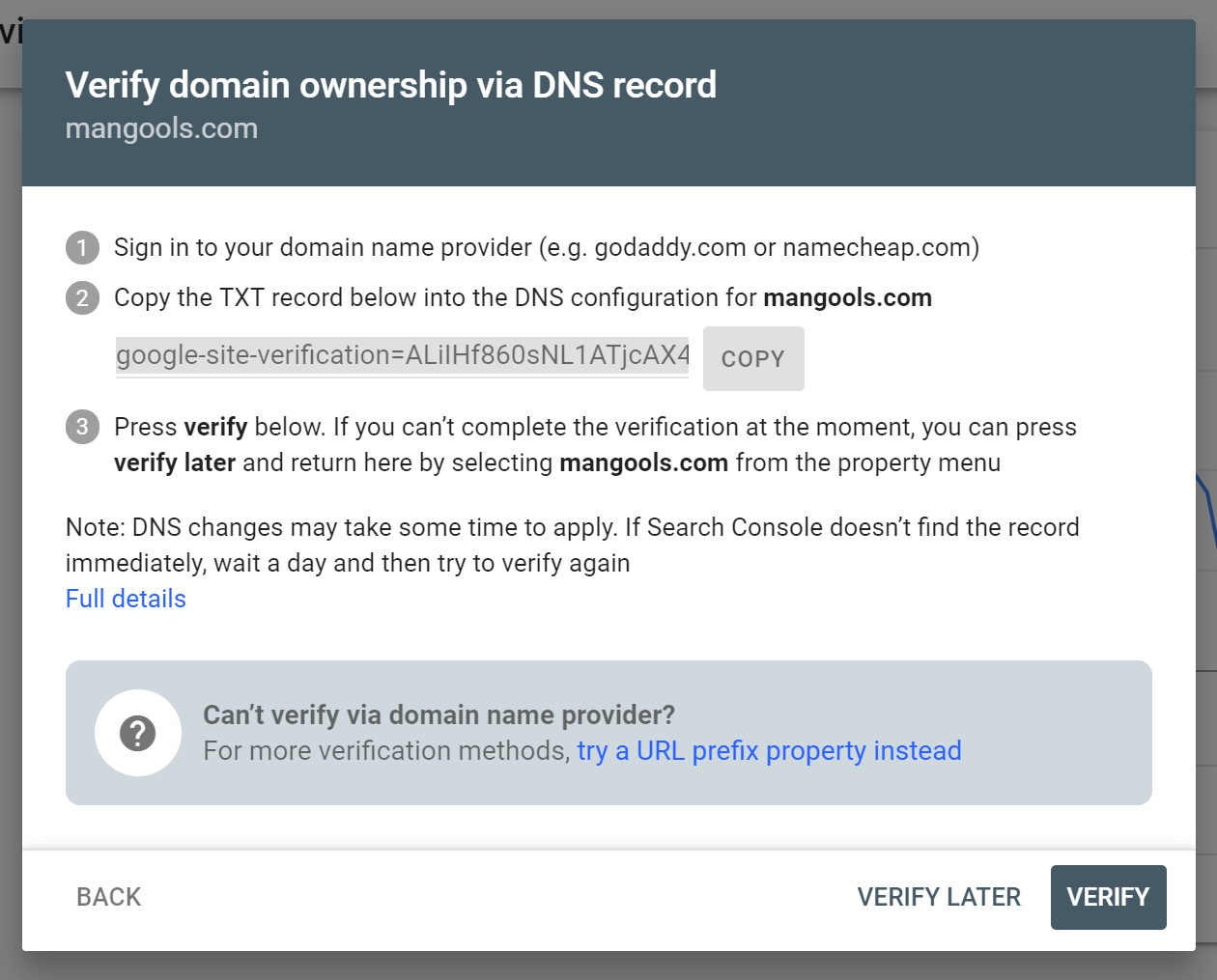 How to verify your property (website) in the Search Console
2. Website speed
Website speed is one of the ranking factors so you should always aim to improve it. It's known that 50% of web users expect a site to load in 2 seconds or less. If it doesn't load in 3 seconds, they will leave.
Quick tips:
Test the speed in PageSpeed Insights.
Optimize images, enable GZIP compression, HTML compression, JS and CSS minification and try to decrease server response time.
Quality web hosting plays a big role in the website speed, so make sure to select a trustworthy provider.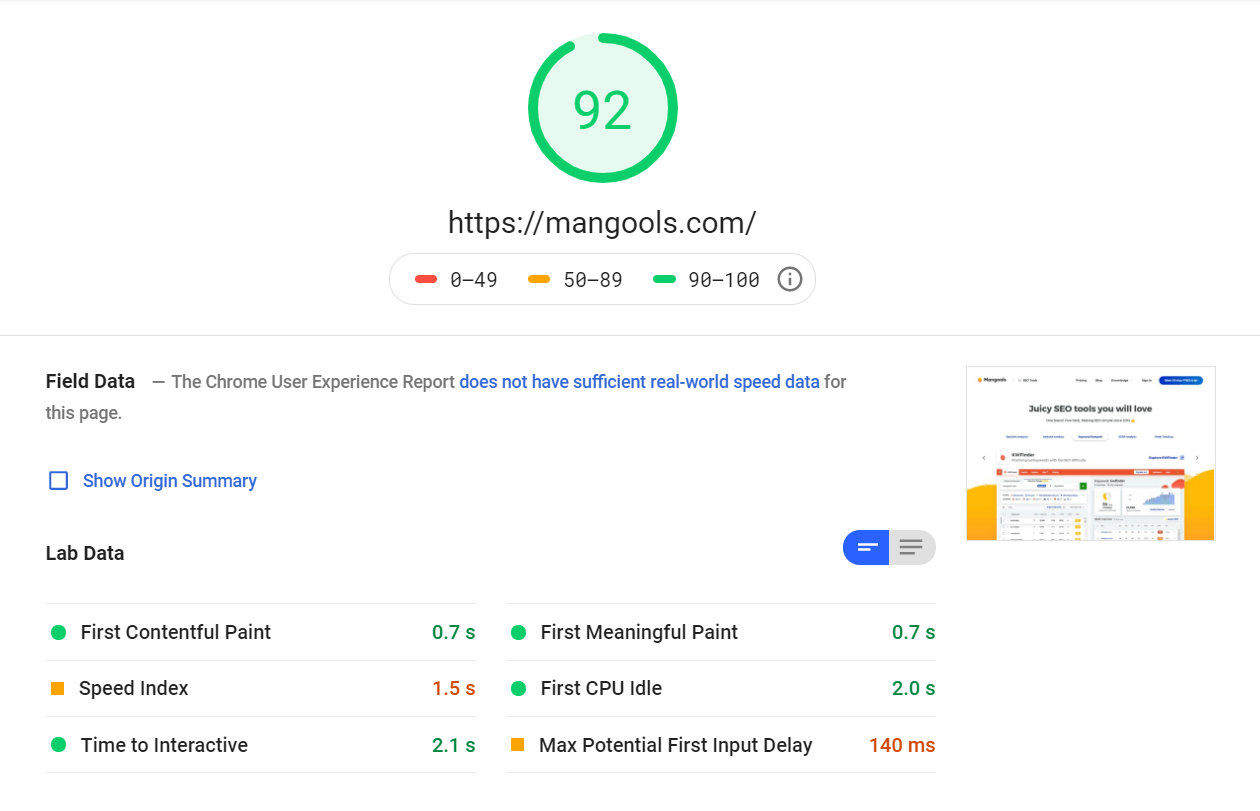 Testing site speed of your website
3. Mobile optimization
Mobile optimization is a must. The world is shifting from desktop to mobile. In fact, running a website that is not mobile-optimized will negatively influence your rankings.
Google started rolling out the mobile-first indexing in March 2018. The mobile-first indexing means that Google will use the mobile version of your website for indexing and ranking.
Quick tips:
Test the responsivity of your website in the Mobile-Friendly Test.
Monitor your keyword rankings in mobile search results.
Make sure the mobile version of your website works like a charm.
You can also consider the AMP (Accelerated Mobile Pages). It's an HTML code extended with custom properties that enable to render static content faster. In 2017, it was one of the main Google's projects of mobile search. We'll see if there's any future for this.
4. Sitemap
A sitemap helps search engines to crawl your content. It's a file where all website sections are listed. It's good to have one when you run a large website with a complicated structure or when you use rich media content.
Having a sitemap doesn't mean your rankings will improve. According to Google, it's a benefit but you'll never be penalized for not having one.
Quick tips:
Not all websites need a sitemap.
There are more types of sitemaps than just the XML sitemap.
The Sitemap shouldn't contain more than 50,000 URLs and cannot exceed 50 MB.
Place the sitemap in the root directory of the website:
https://example.com/sitemap.xml
5. Robots.txt
Robots.txt is a file that tells crawlers which website sections you don't want them to be accessed. It's located in https://example.com/robots.txt and it's public.
It's handy when you don't want some scripts, unnecessary files or images to be indexed.
robots.txt syntax:
User-agent: * (e.g. Googlebot) Disallow: / (e.g. /images/pizza.png)
Quick tips:
Don't use robots.txt to hide content from search engines.
Crawlers or malware robots should not be able to violate robots.txt
Further technical SEO hacks
There are many SEO hacks that will boost your website performance. First, start with the analysis of the current state. It will help you find the opportunities.
SEOSiteCheckup is a great tool for on-page SEO analysis. You can analyze one URL per day and download a PDF report without registering.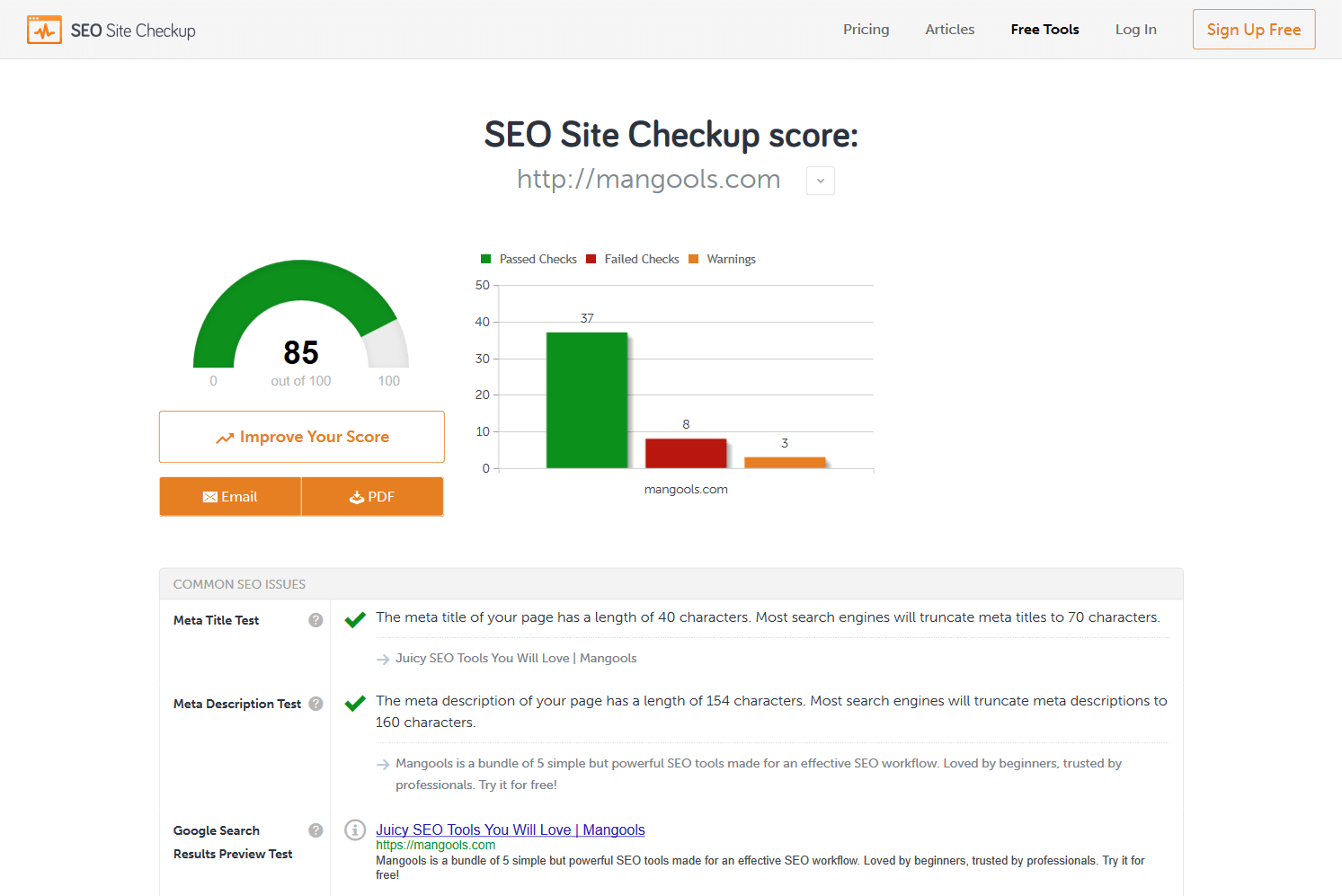 Set up Google Tag Manager for advanced tag management, so you don't need any assistance from web developers.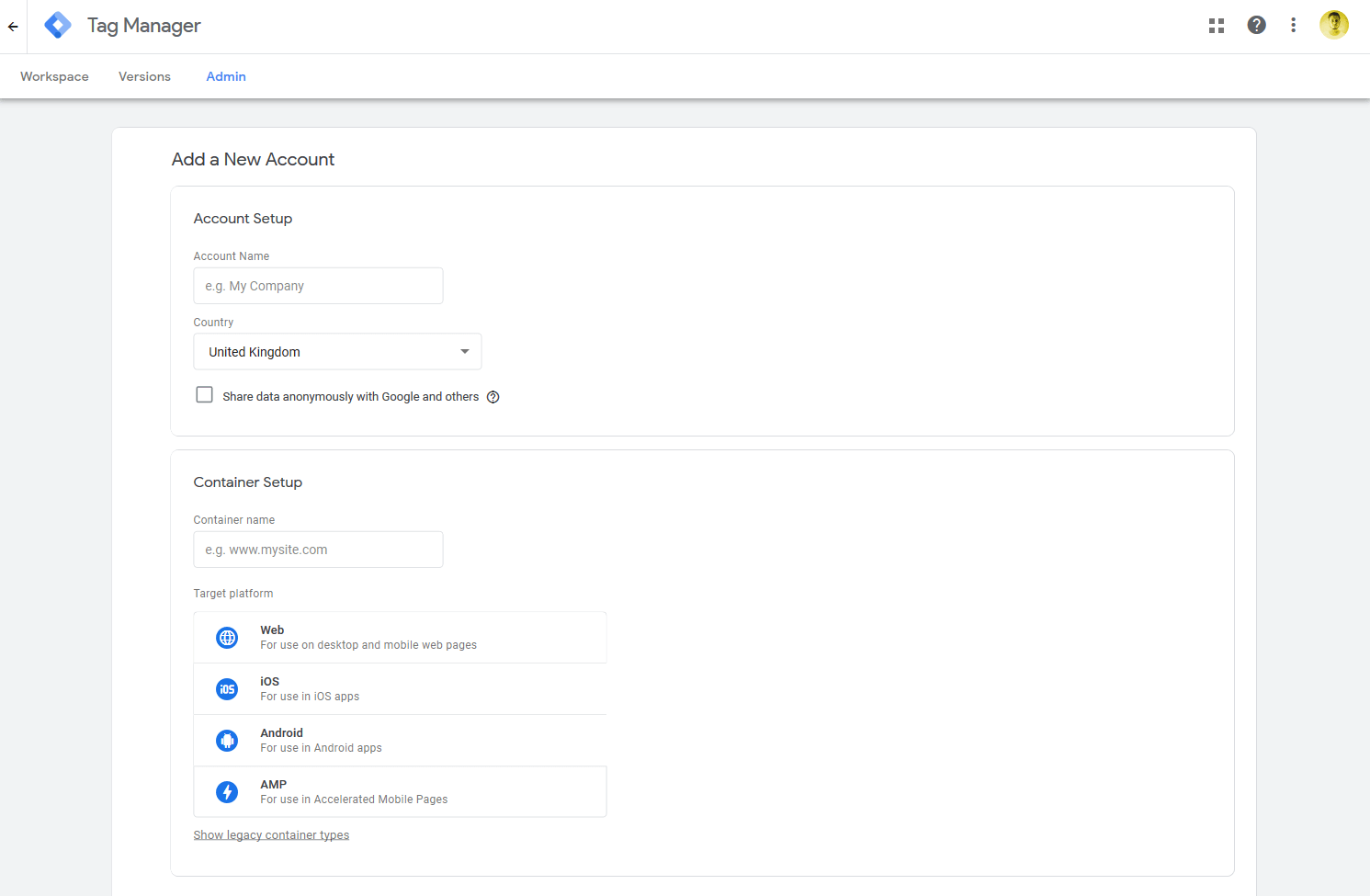 HTTPS vs. HTTP: Back in 2014, Google announced they will boost rankings of HTTPS/SSL websites. Today, we know that it's a lightweight ranking factor influencing a small percentage of search queries.
However, security is a strong psychological factor. Google Chrome, for example, labels a website that is not encrypted with SSL as "not secure", which influences the user engagement.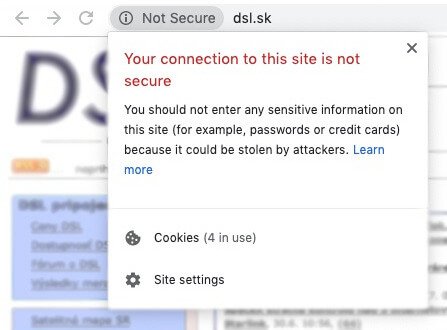 URL/IP canonicalization: IP canonicalization is important when a website is indexed under both its IP address and domain name. URL canonicalization means that:
https://example.com and https://www.example.com/ should resolve to the same URL
If you want to dive deeper into on-page optimization, check out our practical on-page SEO guide for beginners. It covers everything from techical stuff, through content and CTR optimization to monitoring and analysis of your progress.